Spider-Girl, v. 10: Season of the Serpent
Collects: Spider-Girl #52-9 (2002-3)
Released: January 2009 (Marvel)
Format: 184 pages / color digest / $9.99 / ISBN: 9780785132134
What is this?: May makes a romantic choice, goes to an alternate universe, and fights a villain far more powerful than she is.
The culprits: Writers Tom DeFalco and Ron Frenz and pencilers Pat Olliffe and Ron Frenz
Some series you keep buying because of momentum. It hooked you in the beginning — characters, plot, writing, art, something — and you still want to find out how it ends. But you're not excited any more. If you took a deep look at your buying habits, you'd probably be better off not spending the money on that series any more. Not that you'd want to admit that.
I have to admit, the Spider-Girl digest series was getting that way with me. It hadn't found its way into that category yet, but if I was being honest with myself, it was only a matter of time. And then along came Spider-Girl, v. 10: Season of the Serpent, and I don't have to worry about momentum being the only thing making me buy this series.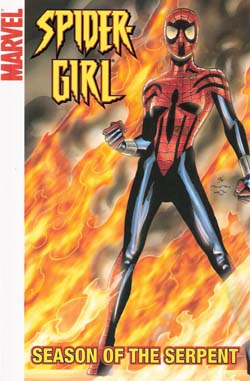 Finally, May makes a decision about her love life, instead of endlessly vacillating. Mary Jane's pregnancy finally — finally — ends. May comes closer to making her peace with Kaine, Alison Mongrain, and Felicity Hardy. We finally see Blackie Drago again. In short, the background plots seem like they are moving for once, and that injects some interest into the story. It felt as if writer Tom DeFalco was going to let some of them simmer forever.
The main plot is above average, but it doesn't generate as much interest as the side plots. The Sons of the Serpent, a hate group, are back, and this time they are backed by Seth, an Egyptian serpent god. Of course this means May is vastly overmatched, which makes the story a bit more entertaining, and it allows her to experience her own trapped-underwater / mother-figure-needs-medicine / won't-give-up moment that Spider-Man gave us in Amazing Spider-Man #33. The Serpents and their hate-group activities get short shrift; they're there simply as a bunch of goons you can safely hope get beaten up. Whatever time it might take to make them interesting is given over to an alternate universe story that takes up most of two issues. While those issues do provide some characterization, it seems mostly a vehicle to bring Captain America to the M2 universe. Not that there's anything wrong with that; it just seems to sap the narrative flow a bit.
The art is good, if not spectacular, once again. Pat Olliffe provides most of the pencils, with Ron Frenz, who co-wrote the issues he penciled, chipping in at the beginning and end of the volume. The two artists' styles blend remarkably well, something that doesn't seem to happen all that often. I have to give Frenz extra points for drawing May in a slightly different style of clothing while she was considering giving up the superheroing life.
The contents of Serpent takes some of the sting out of the new $9.99 digest price; for the first time I can remember, one of Marvel's digests has more than six issues. In this case, it's eight, and that seems like a fair deal for $10. The rumors have the next volume allegedly containing seven issues, which is not as good but doesn't feel like Marvel's trying to cheat me — unless the $12.99 price is also correct, and then I'm getting ripped off.
Still, even if I'm not looking forward to that price, Serpent has me looking forward to the next digest.
Rating:
(4 of 5)
Labels: 4, M2, Marvel, Pat Olliffe, Ron Frenz, Spider-Girl, Tom DeFalco